Lately I feel like I'm running on fumes. There's been so much to do, not enough time to do it in, and even though I'm getting a decent night's sleep, I'm still tired all day.
I guess that's the life of a slightly over-committed momma, but don't we all do that?
It's times like this that I find myself digging deep for a great outfit. It's nothing life changing, or Earth shattering, but somehow a great outfit can pull me through a day, put a smile on my face, and help me "just keep swimming".
Dress: Loft Oulet, Vest: Gap, Belt/Sweater: Target, Tee: Shade Clothing, Leggings: Old Navy, Boots: Comfortview, Ring: Charming Charlie
Friday was totally one of those days. We had a nuclear meltdown in the mall over getting LJ's feet measured for new shoes. We didn't get to have lunch with Daddy at work (who we hadn't seen since Monday for more than 10 minutes at a time) cause of said meltdown. There was a complete temper tantrum when we got home which led to snot all over me that I didn't find until hours later and crusty. Yeah, it was one of those days.
But it was also one of those days where we got to celebrate Daddy's birthday. I got to share all my old Bearenstain Bear books with LJ. We hit the park just in time for perfect lighting and fabulous wind for hair whipping. LJ was a perfect angel during pictures. And something as simple as my outfit made me smile.
I'm learning that as a mom, more days than not are just hard. There's always going to be something…but there's always going to be something good too. This day, I had as many good things as I did not so good. I know not everyday will be like this, but hopefully I can find something as simple as a good outfit to make me smile.
For more great fashion, I'm linking up to What I Wore Wednesday on The Pleated Poppy. You should too!

Party Rules
Link up only outfit or clothing related posts.
Link back to this week's party in your post.
Place the RMRS button somewhere on your blog. Not particular, just somewhere.
Vote for your favorite outfits using the "like" button! I'll be featuring your favorites and mine on Facebook!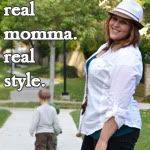 <p style="text-align: center;"><a href="http://www.mommagoround.com/category/style/rmrs" target="_blank"><img src="http://i947.photobucket.com/albums/ad320/yourmemoriescaptured/RealStyleButton1.jpg" alt="Momma Go Round" /></a>