Expectations.
Throughout every aspect of life we have expectations about how things should go, should be, how we should behave, yada yada.
Like buying our house…..
I expected that the professional parties involved would be, well, professional. I expected that what they promised would be delivered. I expected to move this weekend.  
That's the problem with expectations, I often set myself up for disappointment. Sure, people have not done their jobs correctly, errors have been made, delays have been caused, inconveniences have occured. But that's life.
Instead of looking at the negative, Hubs has an amazing ability to look at the positive, or at least the not so bad. I'm trying to be better at this….
My photoshoot got rained out…or…I got to have fun and take awesome sprinkled on pictures.
Top/Cardigan: Old Navy, Jeans: Gap, Shoes: Target, Watch: Michael Kors, Necklace: c/o Lisa Leonard Designs
We didn't get to move this weekend…or…we got to take LJ to an awesome little Eggstravaganza where he had the time of his life for a whooping $5.
Then proceeded to sleep for 13 hours.
Sometimes things not living up to my expectations is ok, I just have to learn to roll with it.
For more great fashion, I'm linking up to What I Wore Wednesday on The Pleated Poppy. You should too!

Party Rules
Link up only outfit or clothing related posts.
Link back to this week's party in your post.
Place the RMRS button somewhere on your blog. Not particular, just somewhere.
Vote for your favorite outfits using the "like" button! I'll be featuring your favorites and mine on Facebook and in the weekly round-up.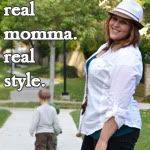 Grab button HERE!