Hey there folks! Sorry to fall off the face of the planet for the last week. Between the big move to the new house (pictures to come, I promise!), and LJ's 3rd birthday, it's been slightly insane around here.
Most of my kitchen is still in boxes, but the purple wall of death is gone!
We may have had to move on LJ's birthday (don't get me started with that one!), but he loved his little family party and never knew the difference.
LJ and Wesley
So  now that things have settled down just a bit, for the moment, it's time to jump back into the saddle of real human clothes and share some style
Pants: Gap, Sweater/Tee: Old Navy, Scarf: Gift, Shoes: Tory Burch
After spending a week + in nothing but sweats, workout gear, or pajamas, it felt really good to actually put an outfit on and look presentable. It was a great reminder of how much better I feel, how much happier I am, and therefore how much happier everyone around me is, when I look like a human. It's funny how that works!
Not to mention, it was very exciting to get to walk out of my patio onto this great grass area that runs behind our townhouse and take pictures! SOOOOO convenient!
For more great fashion, I'm linking up to What I Wore Wednesday on The Pleated Poppy. You should too!

Party Rules
Link up only outfit or clothing related posts.
Link back to this week's party in your post.
Place the RMRS button somewhere on your blog. Not particular, just somewhere.
Vote for your favorite outfits using the "like" button! I'll be featuring your favorites and mine on Facebook and in the weekly round-up.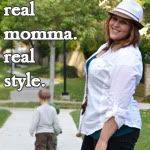 Grab button HERE!