This was the little outfit that wouldn't quit. I tried to send this skirt back, but it wouldn't let me. Something about needing postage…pish posh!
I love this skirt to death, I just was apparently having a fat moment when it first arrived cause I just didn't like the way it made my hips look. So I packaged it up for return, put it in my car, and it sat.
Sweater: Gap, Top: TJMaxx, Skirt: c/0 eShakti, Shoes: Target, Watch: Michael Kors (gift)
Who knows how long later, I finally remembered to drop it off. In the box at the Post Office it went and back onto the site to pick out my replace I went. Until a few days later when I got a message from my apartment office that I had a package…but I wasn't expecting anything. Oh, postage, you need postage? You greedy little skirt!
With the skirt now back in my aparment, I couldn't resist trying it on just one more time. Maybe I magically lost weight? Maybe I was just tired and didn't see it right? Maybe LJ handprints on the mirror were distorting what I saw?
Maybe the skirt just knew better than I did that it belonged here
For more great fashion, I'm linking up to What I Wore Wednesday on The Pleated Poppy. You should too!

Party Rules
Link up only outfit or clothing related posts.
Link back to this week's party in your post.
Place the RMRS button somewhere on your blog. Not particular, just somewhere.
Vote for your favorite outfits using the "like" button! I'll be featuring your favorites and mine on Facebook!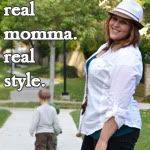 Please grab button from sidebar!