I must admit, I've gotten really cheap. Not just frugal, straight out cheap.
I love shopping, I love finding great new things, but have very little budget to play with. So I've learned to get creative, shop the sales, and be painfully cheap. 
Sometimes it comes back to bite me in the butt (i.e. too cheap to buy this amazing houndstooth print blouse I've been eyeballing at Gap that was on clearance, realized I was stupid, and it was gone). Other times, it's proves to be my best buddy.
Dress/Blazer: Old Navy, Undershirt: Shade Clothing, Shoes: Target, Necklace: Gift, Bracelet: Momma Go Round (coming very soon)
Like in this outfit.
Dress: Clearance for $12 + 30% off coupon + reward coupon =
$1.44 
Blazer: Clearance for $10 + 50% off all clearance =
$10
Shoes: Clearance for
$4.94
After proceeding to almost kill myself multiple times, I found out that this dress was probably on clearance because it's long enough for a giant. Even in my tallest 5 inch or so platform sandals, I still need to hack off two inches or so.
But for $1.44, I'll deal
***Deadline Extended!!! Today is the LAST DAY to enter the Chippy Chip Dovey $25 Credit giveaway! Also, the winners of the Jamberry Nails Giveaway were announced. Was it you?***
For more great fashion, I'm linking up to What I Wore Wednesday on The Pleated Poppy. You should too!

Party Rules
Link up only outfit or clothing related posts.
Link back to this week's party in your post.
Place the RMRS button somewhere on your blog. Not particular, just somewhere.
Vote for your favorite outfits using the "like" button! I'll be featuring your favorites and mine on Facebook!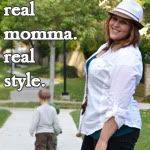 Please grab button from sidebar!