Hello everyone! It feels like forever since I've written since we got to enjoy so many wonderful guest posts last week! If you haven't seen all the awesome posts, click on the Style tab, then down to Guest Fashionistas to find them.
Labor Day weekend was filled with lots of child-free fun for us! Hearst Castle, Monterey, San Francisco, then on to Sacramento for my college roomate's wedding. It was so nice to have some time away and to get to catch up with everyone.
For fashion's sake, we are starting at the end with wedding. Weddings always pose a challenge for me. Have you ever looked for a knee length, sleeved dress that is nice enough for a wedding? Yeah, it's really fun, let me tell you. So I was thrilled beyond thrilled when eShakti offered to dress me for the wedding!
Ladies, if you've EVER had a hard time finding, well, anything that fits right, eShakti is the place for you! With detailed directions on how to measure yourself, you can either order one of their standard sizes, OR get pieces custom fit to your measurements! You can even change the sleeve style, neckline, and hemline! A modest girl's miracle!

Dress: c/o eShakti, Undershirt: Spanx slip, Necklace: ?, Bracelets: H&M, Shoes: Target
I found this beauty and knew that it would be perfect. Sacramento in September is not exactly the most comforatble place on the planet for an outdoor wedding, so the light cotton was an excellent choice for staying cool.
I adjusted the hemline to "below the knee" just to make sure I had enough coverage. It was such a nice change of pace to not need a sweater/shrug, know that my dress was long enough, and not need to worry if I was dressed up enough.
I even honored my new dress with a first time up-do. It was the perfect look!
My posse agreed…it was AWESOME!!!
Just for Momma Go Round readers, eShakti is offering you $20 off ANY ORDER! That's dresses, pants, tops, jackets, skirts, all made to fit you! Enter MGR0811 in the coupon code. But you have to hurry! This offer ends THIS THURSDAY, 9/15!
Also, register with eShakti and you will receive a $20 gift certificate! How can you pass up all these great deals!
I'm going to get the Migratory Birds Chiffon Print Dress. What are you going to get?
Party Rules
Link up only outfit or clothing related posts.
Link back to this week's party in your post.
Place the RMRS button somewhere on your blog. Not particular, just somewhere.
Vote for your favorite outfits using the "like" button!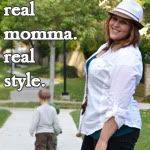 Please grab button from sidebar!