Welcome to the kick off of Summer to Fall Fashion Week!!!
I'm so excited to share with you guys so many great bloggers that I constantly look to for inspiration. These ladies always leave me wanting more and anxiously awaiting their next posts. Whether it's their magical remixing powers, their incredible photos, how their personalities shine through, or simply making me roll on the floor, dying from laughter, I know you will love all these ladies as much as I do.
I'm beyond excited to introduce the incredible Emerald from Sunday Crossbow as host of this week's RMRS.
Yeah….she did just pull off stripes and floral together, and looks SMASHING doing it. She's that good.
Emerald never ceases to amazing me with the stunning combos she comes up with. This girl makes my version of jeans and a tee look lame-0.
She's a little vintage. A little modern. And a whole lotta awesome! Did I mention she's like super duper sweet too? Yeah, whole package here ladies.
Take it away Emerald! 
dress (aerie); tights (kohls); boots, jacket (xxi); bag (h&m) 
We've made it–fall is coming and so is the closet preparation.  Like football, there is a certain spirit in the air surrounding fall fashion.  (So much that some of us–me–having already pulled out all cool weather clothing.)
When Nina asked me to do this post, I was thrilled because it was a challenge to look at what I already had.  I'll confess I've already started cruising stores for autumnal accessories, but it's important to take inventory of what's in stock.
You may remember this dress from the 30×30 Remix.  I really do love it, but it has proven some difficulty in presentation.  Today's post not only encourages shopping from what you have, but also to break the No-White-After-Labor-Rule.  Bloggers and fashionistas do what they want!
When transitioning wardrobe pieces from summer to fall, I follow these tricks:
1. Jacket:  I like lightweight jackets or fitted blazers to give shape, layer, and a little extra warmth.
2. Scarves:  because necks get cold too–great way to add color.
3. Leg wear:  tights under a dress or thick socks over skinny jeans.
4. Boots:  knee, calf, or ankle lengths; heeled, wedged, or flat–I can't get enough.
Told you she's amazing!
Anyone else wanna steal that jacket right off her? Thank you so much Emerald for showing us a great summer piece transition and giving us so many ideas! I'm determined to embrace leg wear this year.
Party Rules
Link up only outfit or clothing related posts.

Link back to this week's party in your post.

Place the RMRS button somewhere on your blog. Not particular, just somewhere.

Vote for your favorite outfits using the "like" button!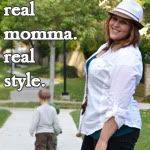 Please grab button from sidebar!