Happy Monday folks! Sorry for the tardiness in getting RMRS up. I had a blast this weekend dashing up to SF for my college roomie's bachelorette spa weekend (pics to come). You know how it goes with trips, everything's all off when you get home.
Friday was get ready and go day. My roomie Diana, the bride's BFF Jenna, and I hit the road at the lovely hour of 4:30pm, just in time to sit in traffic. JOY! So I spent the day packing up, doing laundry, and loading the house up with yummies for my boys. Friday definately called for an outfit that was practical, yet cute.
Skinny jeans, colorful striped top, and a button up. Perfect for the undecisive weather and getting things done. Plus, these pants have spandex…a car trip filled with too much chocolate essential!
Jeans: Gap, Striped Top: Anthropologie, Button Up: Old Navy, Bracelets: Downtown, Flats: Target
Plus, I got to bust out my awesome new purple flats! I've been wanting purple flats for months, but haven't wanted to spend much. On sale at Target for $12, winners!
Sneaky little one I have here. He climbed out of his carseat, into the trunk, grabbed a peach, and parked himself right infront of the camera. I love this kid!
Party Rules
Link up only outfit or clothing related posts.

Link back to this week's party in your post.

Place the RMRS button somewhere on your blog. Not particular, just somewhere.

Vote for your favorite outfits using the "like" button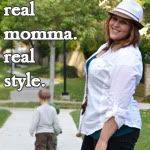 Please grab button from the sidebar….it's being weird!